10-7-2023
Marinus @ ICCC'23 Canada
From June 19 to 23, the 14th edition of the International Conference on Computational Creativity (ICCC) took place in Waterloo, Canada. Marinus, one of Zooma's developers, had the honor of presenting his graduation thesis here. A great experience, of course!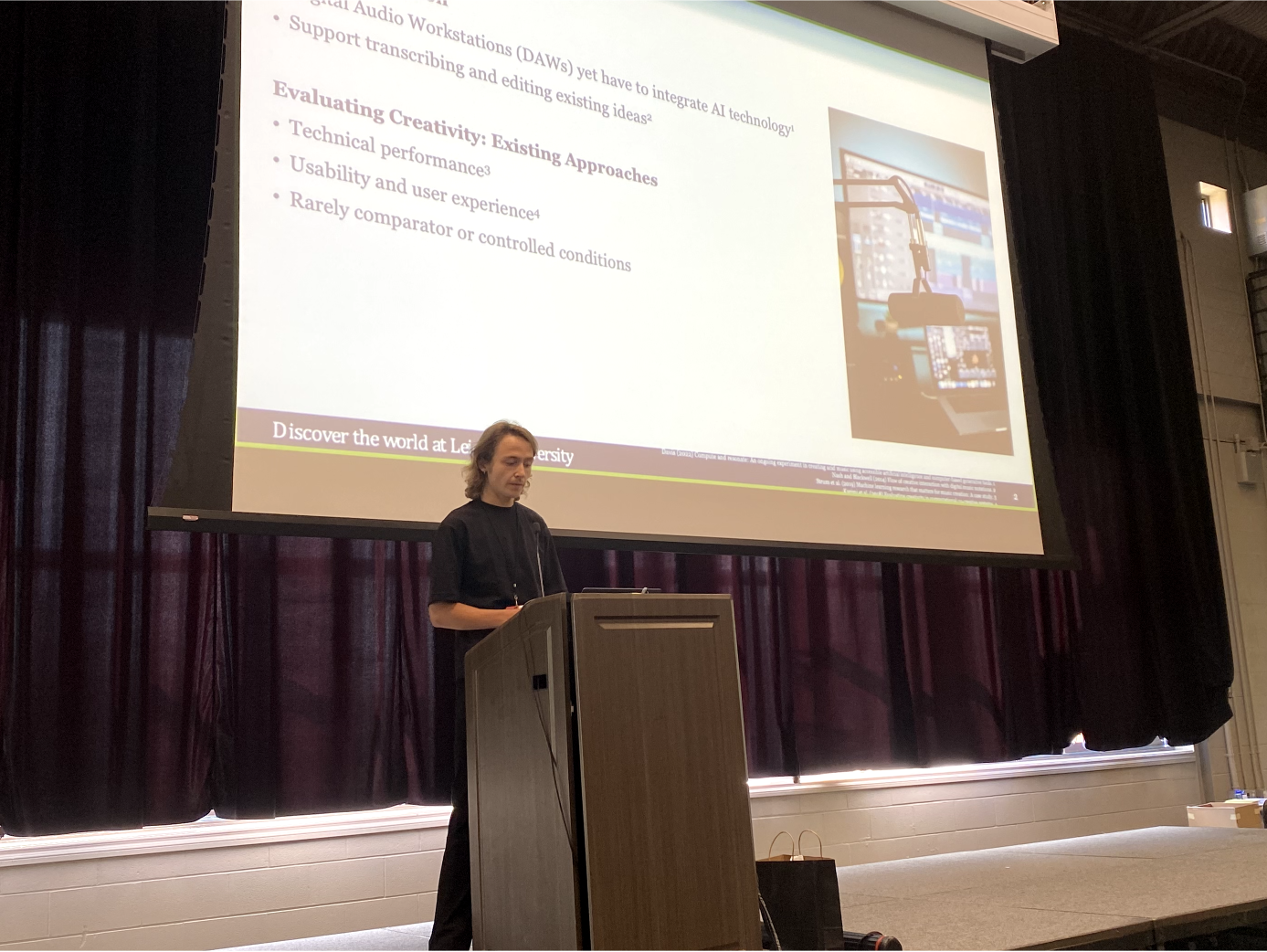 The annual conference brings together researchers from various fields to explore the relationship between computers and creativity. Computational Creativity aims to model, simulate and replicate creativity in computers. This leads to a better understanding of creativity, the ability for computers to be creative, and provide support to humans in creative tasks (Jordanous, 2014).
"This year I had the unique opportunity to present my thesis for the Media Technology (MSc) master's degree at this conference. This research analyzed the creative processes of music producers while working with two different artificial intelligence (AI) tools that provided melody suggestions. When it comes to AI technology, there is a strong tendency to look at the quality of the generated content (lyrics, images, sound). My thesis shows that this perspective is insufficient when systems are developed for human collaboration with AI. In my research, I compared two AI systems, both of which provided melody clips when requested by music producers. Both systems were operationally identical, but one actively responded to the producer's music, while the other provided random snippets. Both systems had different but valuable interactions with the producers' creative process."
Watch the presentation on Youtube.
In addition to presentations by participants, there were workshops and tutorials. Workshop participants were invited to critically reflect on the future of AI in the year 2038 and its assumptions, methods and tools. "The tutorial I attended was about building computing systems with a sense of humor. Although systems such as ChatGPT can produce insane texts, AI still falls short in making jokes. The tutorial discussed several possibilities." At the end of the conference, participants were able to take a field trip to a local winemaker and to Niagara Falls.
I feel honored to have been a part of this inspiring congress. With enthusiasm, I look forward to future discoveries and advances in AI and creativity - but especially to the humor.""
Source credit
Jordanous, A. 2014. What is Computational Creativity? Available at The Creativity Post
Next
TMSQR at the top of app stores